Available from
v0.0.3-beta
Mit unserem Repetier Server Pro Dashboard haben wir die Vorteile und Funktionalität direkt in unseren 3D Druckkosten-Kalkulator integriert. Dies erlaubt dir unter anderem:
Deine Drucker zu steuern (Druckaufträge einzustarten, zu pausieren oder abzubrechen)
Deine Gcode-Dateien zu verwalten (Hochladen, löschen usw.)
Deinen aktuellen Druckauftrag zu überwachen
and many more
Alternativ kannst du auch OctoPrint verwenden. Besuche dazu diese Anleitung.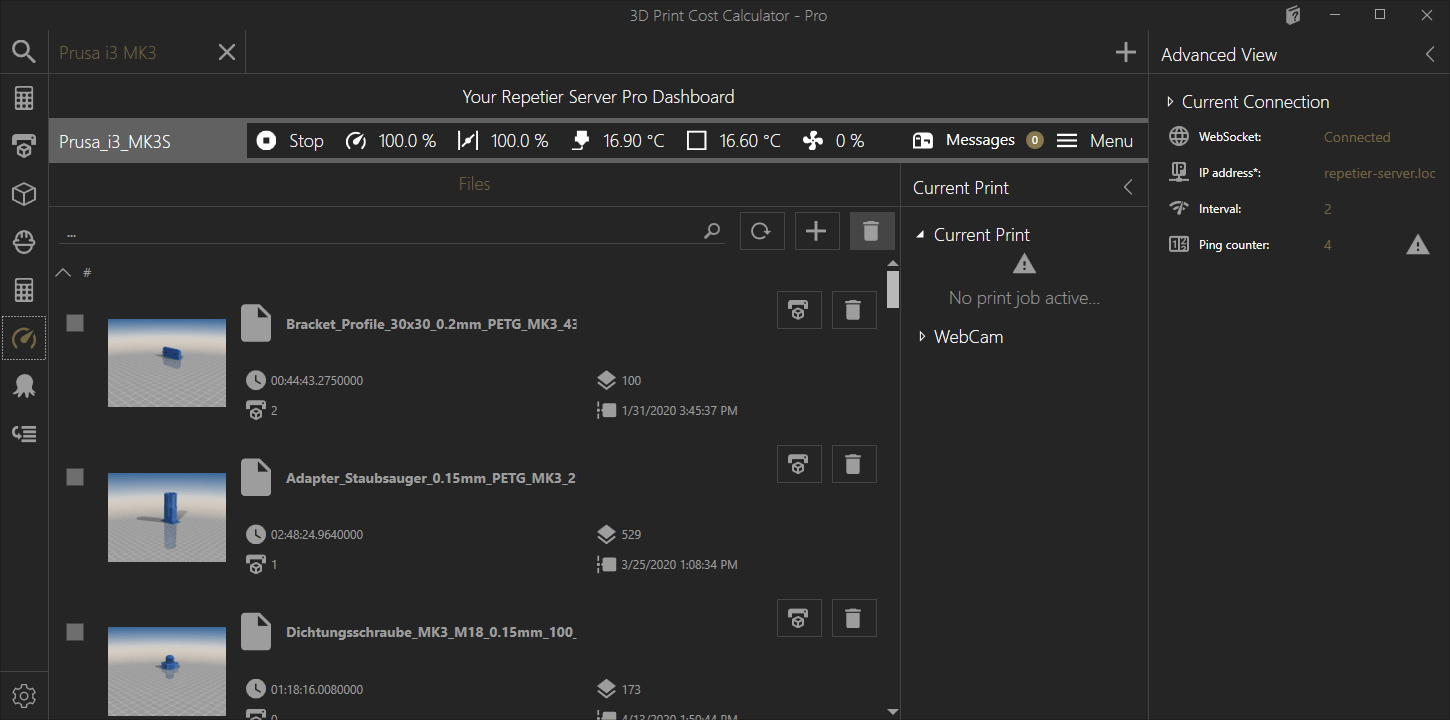 Bitte beachte, dass du für die Verwendung dieses Moduls eine gültige Lizenz für Repetier Server Pro benötigst. Du kannst diese auf der Website des Anbieters erwerben. Wir stehen in keiner Verbindung zum Anbieter, noch ist unser Repetier Server Pro Dashboard eine offizielle Software des Anbieters. Wir nutzen zum Interagieren mit dem Server die öffentliche Rest-API, welche vom Anbieter zur Verfügung gestellt wird.
Files & groups
Files
Das Repetier Server Pro Dashboard lädt automatisch, alle für den ausgewählten Drucker abgelegte Dateien, in die Dateiansicht. Bei diesem Vorgang werden nur die Informationen abgerufen, es erfolgt kein Kopiervorgang der ganzen Datei auf dein System.

Du kannst den Dateien folgende Informationen entnehmen.
Druckdauer (errechnet vom Repetier Server)
Die Anzahl der Drucke
Die Anzahl der Schichten
Zeitstempel des Uploads
Ordner (Gruppen)
Das Augenmerk im Dashboard liegt auf deinen Projekten, welche auf deinem Server abgelegt sind. Diese sind wie auf deinen Server in den entsprechenden Ordnern untergebracht. Du kannst einzelne Ordner einfach einklappen. Klicke dazu einfach auf den Ordnername neben dem kleinen Pfeil.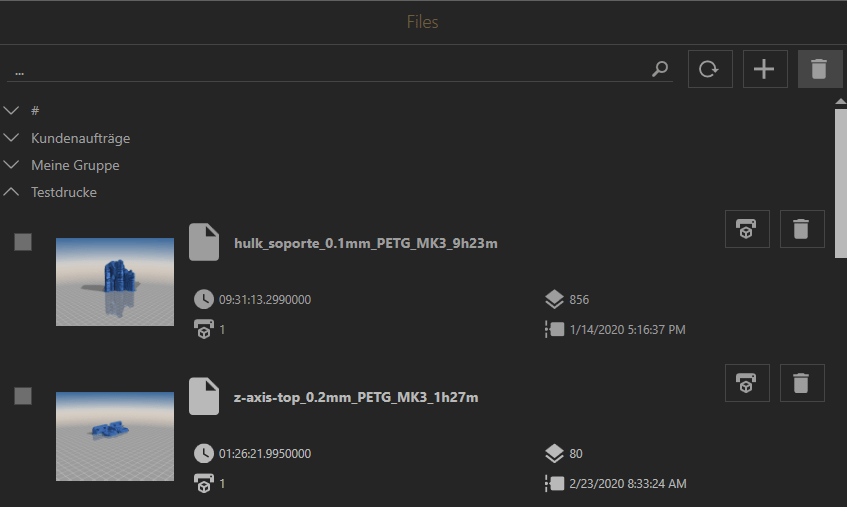 File action
Du kannst direkt aus dem Dashboard gewisse Aktionen ausführen. Darunter zählen:
Dateien zu löschen
Druckaufträge zu starten
Neue Dateien hochzuladen
Neue Ordner zu erstellen
Buttons, welche du direkt bei der Datei findest, führen Aktionen gültig für diese einzelne Datei aus. Des Weiteren kannst du auch globale Aktionen ausführen. Diese Buttons findest du über der Dateiansicht neben dem Suchfeld.

Beginnend von links haben die Buttons folgende Funktion:
Aktualisieren => Aktualisiert die Dateiansicht und lädt die Informationen neu vom Server
Neu => Öffnet einen Dialog zum Hochladen neuer Dateien, sowie das Erstellen neuer Gruppen / Ordner am Server
Löschen => Löscht die ausgewählten Dateien vom Server
Upload new file
Durch das Klicken auf den "+"-Button öffnet sich der Dialog zum Hochladen neuer Gcode-Dateien auf deinen Repetier Server Pro. Du kannst deine Dateien entweder direkt über den "Durchsuchen"-Button auswählen oder einfach in der Dropzone ablegen.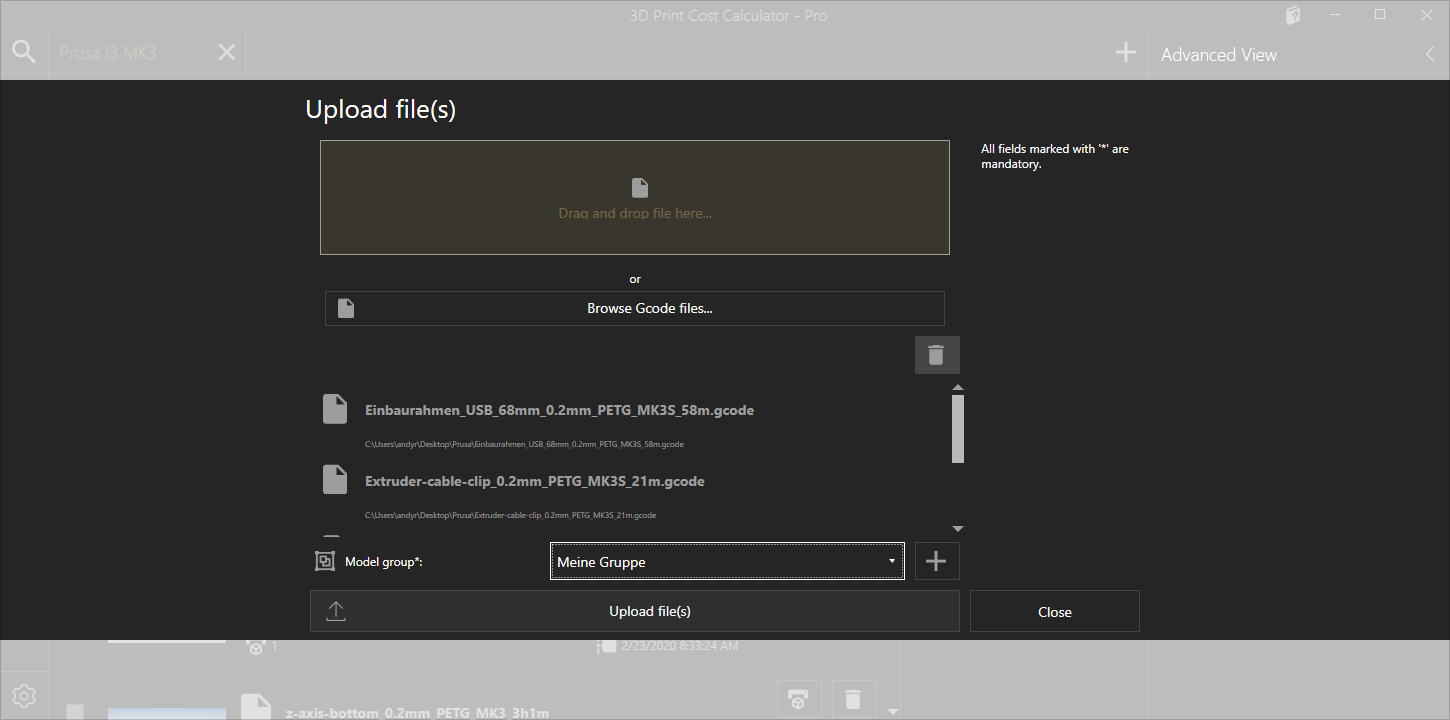 Das Tool prüft hier automatisch, ob es sich um eine gültige Gcode-Datei handelt. Ist deine Auswahl bereit, klicke einfach den "Dateien hochalden"-Button und das Hochladen wird gestartet. Je nach Größe und Anzahl der Dateien kann der Vorgang etwas dauern. Du kannst den aktuellen Fortschritt im Fenster verfolgen.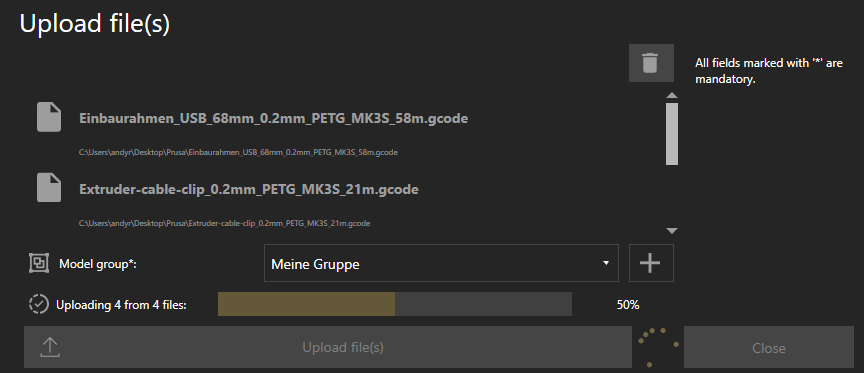 Ist der Vorgang abgeschlossen, wird die Liste automatisch geleert und du kannst weitere Dateien hochladen oder den Dialog mit "Schließen" beenden.
Control
Des Weiteren bietet dir das Repetier Server Pro Dashboard die Möglichkeit deinen Drucker zu steuern. Du kannst:
Die Temperatur der Düse, sowie des Heizbettes ändern
Den Lüfter regeln
Die Geschwindigkeit und den Fluss-Multiplikator anpassen
Einen "Notfall-Stop" ausführen
Deine Nachrichten lesen & verwalten
Deinen Server herunterfahren oder neu starten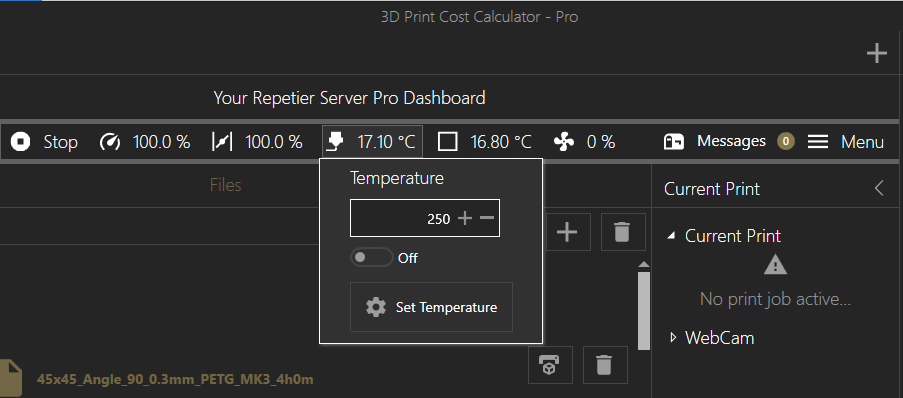 Important Aktuell sind nur Drucker mit einem Single-Extruder getestet. Bei Problemen mit Dual-Extruder schreib uns bitte eine
message
!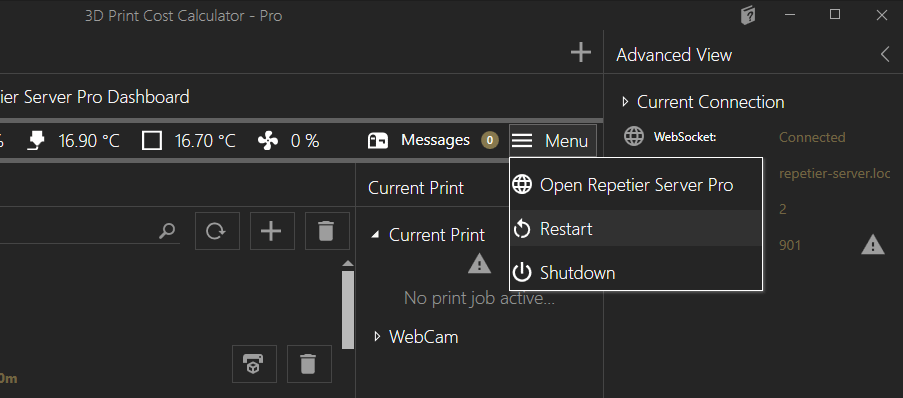 Seitenleiste
Current print
Im Bereich "Aktueller Druck" werden dir Informationen über den aktuell ausgeführten Druckauftrag angezeigt. Unter anderem findest du hier folgende Informationen:
Fortschritt in Prozent
Aktuelle Schicht
Dauer
WebCam
Dieses Feature wurde temporär aus dem Dashboard entfernt, da die verwendete Drittanbieter-Softwarelösung ca. 200 MB an Daten hinzufügt. Wir versuchen hier eine bessere Lösung zu implementieren. Diese wird mit folgenden Updates ausgerollt.
Verwaltung multipler Drucker
Das Repetier Server Pro Dashboard ist so konzipiert, dass du mehrere Drucker simultan verwalten kannst. Über den "+"-Button im Tab-Kopfbereich kannst du einen neuen Drucker öffnen.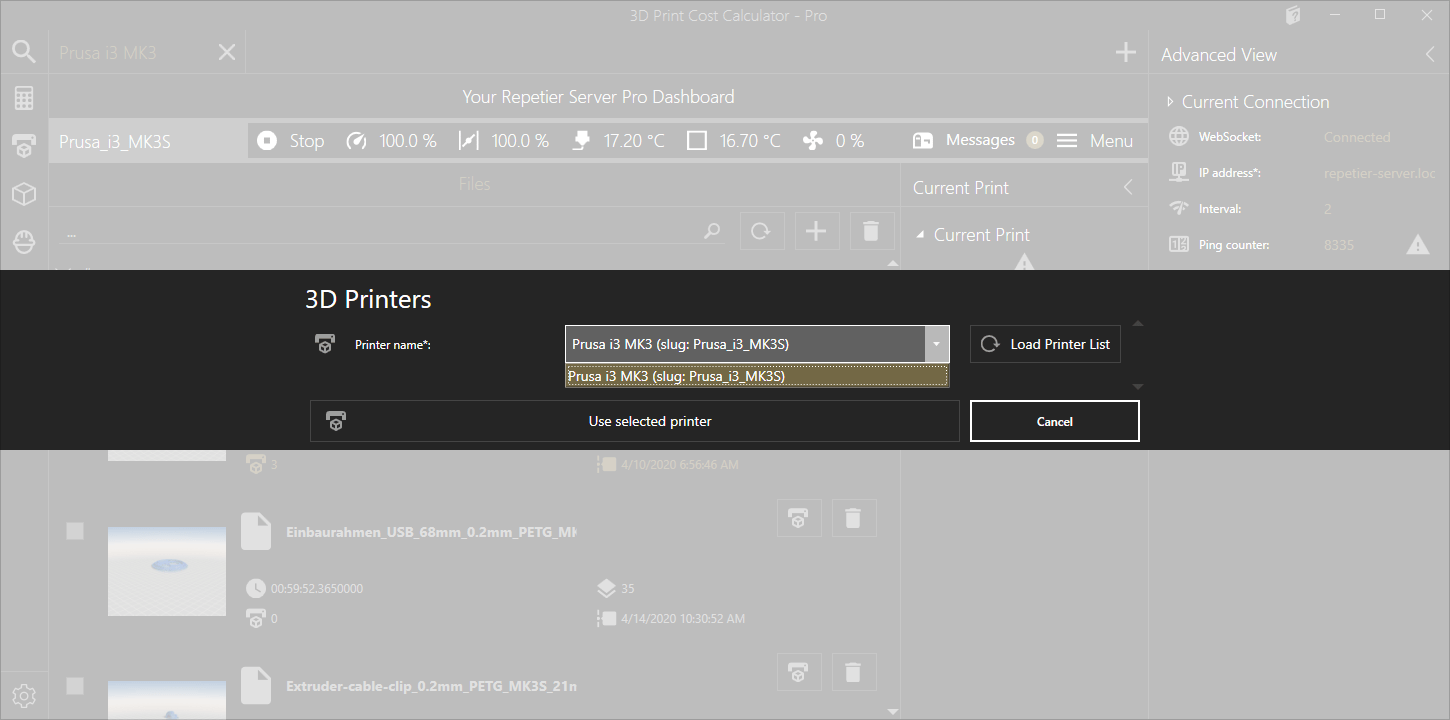 Bitte beachte, dass du pro Drucker nur einen Tab öffnen kannst. Wenn du versuchst einen bereits geöffneten Tab erneut zu öffnen, dann springt das Tool stattdessen zum geöffneten Tab und zeigt diesen an.
Beta Please note that this module is still in beta status and may contain minor bugs.