<trp-post-container data-trp-post-id="24520">3D Druckkosten Kalkulator</trp-post-container>
Home /
3D Print Cost Calculator
Calculate your printing costs correctly!
Use our windows tool to calculate your print job!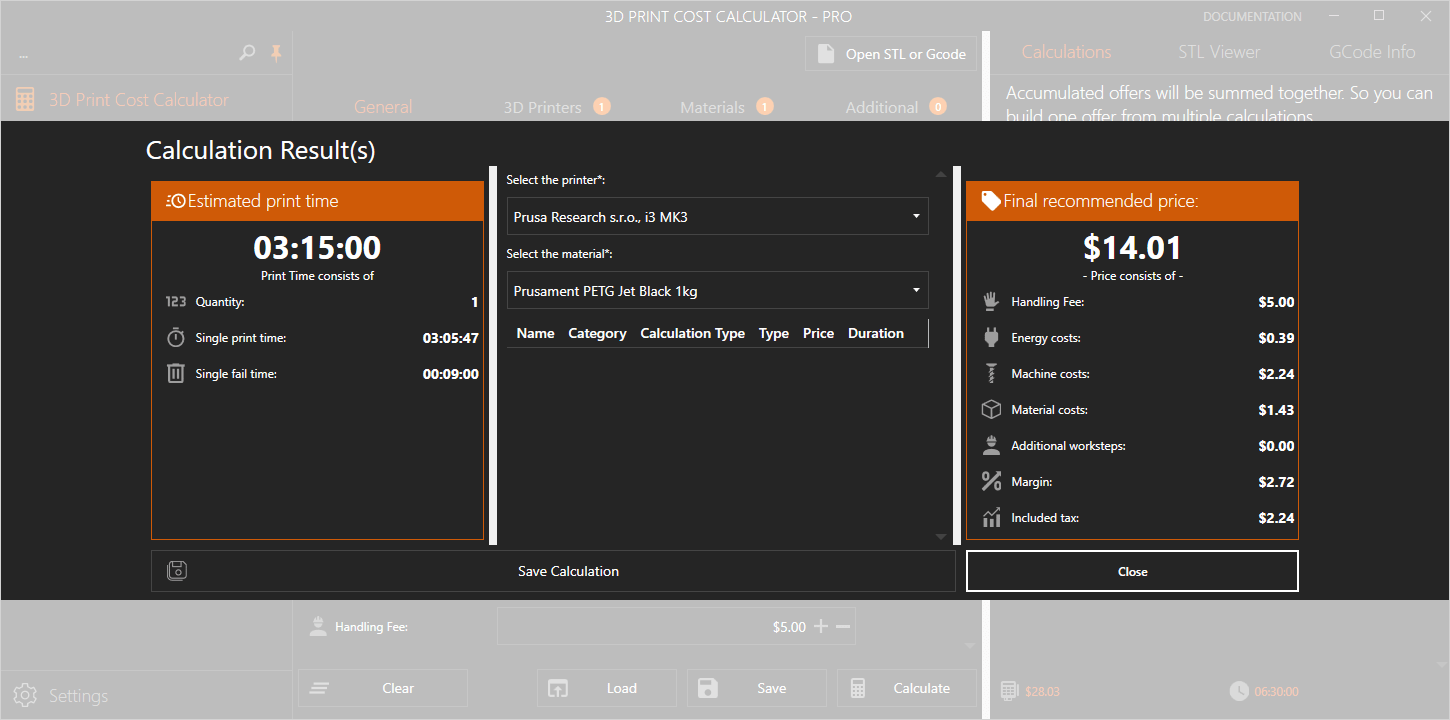 The best price
Calculate your price as accurately as possible and give you a precise overview of the distribution of costs!
Features
The most important functions at a glance!
Localized
The software is available in German and English for now. We will add further languages time by time. If you want to help us on that, get in touch with us!
Printer Management
Organize and manage your printers. Just select the wished printers for your calculations easily later.
Material Management
Add the most used materials and select them for your next calcualation effortlessly!
Machine Hour Rate
You can calculate your machine hour rate directly in our tool and assign it to your printer(s).
All important Parameter
Calculate the price as accurately as possible. In addition, our tool offers a variety of parameters, which contribute to the calculation of the total price!
Design
Design the user interface according to your taste!
3D Preview for STL Files
If you use an STL file as the basis for the calculation, it can be displayed directly in the tool.
Portable
The software does not need to be installed and is completely portable (doesn't apply to the current beta version!)
Save & Export
Save and export your calculation to later access it again
No Internet Connection needed
Our tool does not need an internet connection. You can do your calculations anytime, even offline.
Drag & Drop
Simply drag your Gcode or STL file into the calculation form! We automatically determine the important data such as volume, printing time, etc. (depending on the format)
Kostenlos für Privatanwender
The best part? The software is completely free for you as a private user!
Currently available languages
Available languages

German
Translated by Andreas

Deutsch - Schweiz
Übersetz von Andreas

English
Translated by Andreas

French
Translated by Sébastien
All sections at a glance
All important sections are organized in the tabs below.
Manage all your printers in the "3D Printer" tab. There you will find all the important information, such as the machine hourly rate, the max. power consumption, and much more
Manage all your materials in the "3D Print Materials" tab. Here you can see all the important information, such as the price / packaging unit, the kind & type of material and much more. Furthermore you can also order the "Re-order" button right now!
Of course, printing alone is not enough. That's why you can manage your additional work under the "Additional worksteps" tab.
In the "Machine Hour Rate" tab you can directly calculate and allocate the costs per hour for your 3D printer. Nice, isn't it?
Manage all your 3D Printers
You can add and manage each of your printer in the tool!
All your printers at one spot!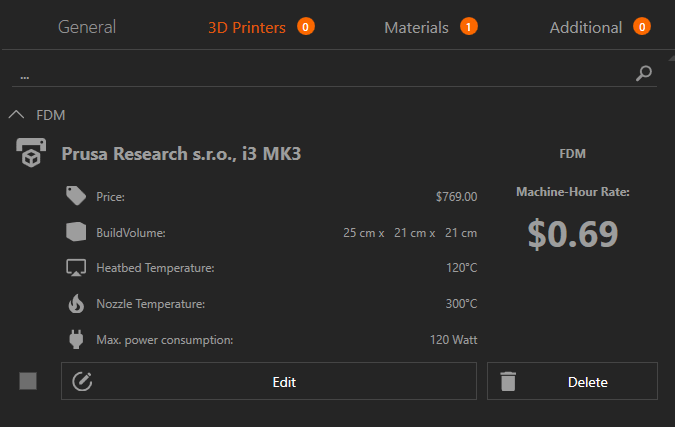 Organisiere all deine Drucker in der 3D Drucker-Übersicht
Advantages
Overview of all your printers
Quick use for your calculation
All important information at one glance (price, machine hour rate, and many more)
Your personal material overview
Manage all your materials in the Materials Overview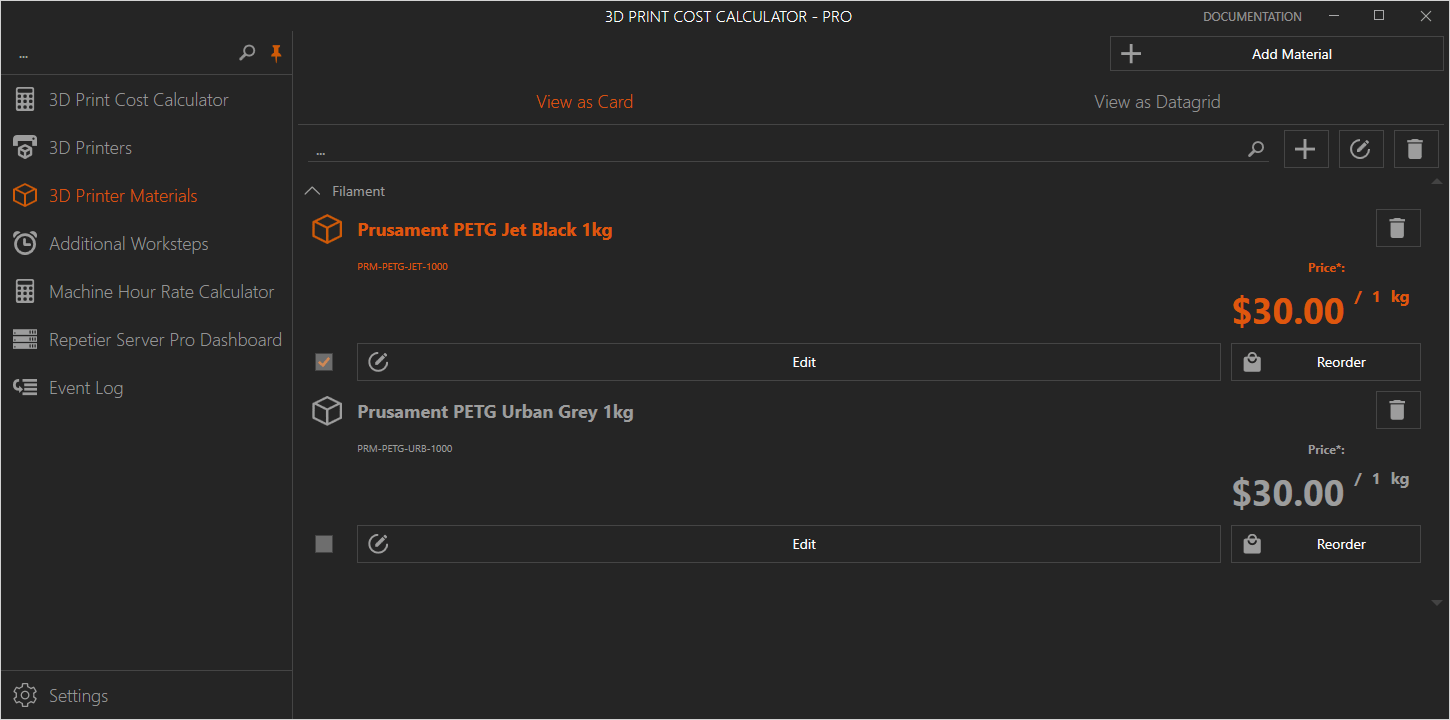 Overview
Quick overview of all available materials including price
Fast selection
You can select created materials directly for the calculation.
Reorder
Simply reorder by clicking on the "reorder" button directly from the overview (if maintained)
Your calculator, your design
Put the look of your calculator as you like.

Your personal touch
Choose your favorite colors from the given colors and design the tool as you imagine it
Design your software according to your wishes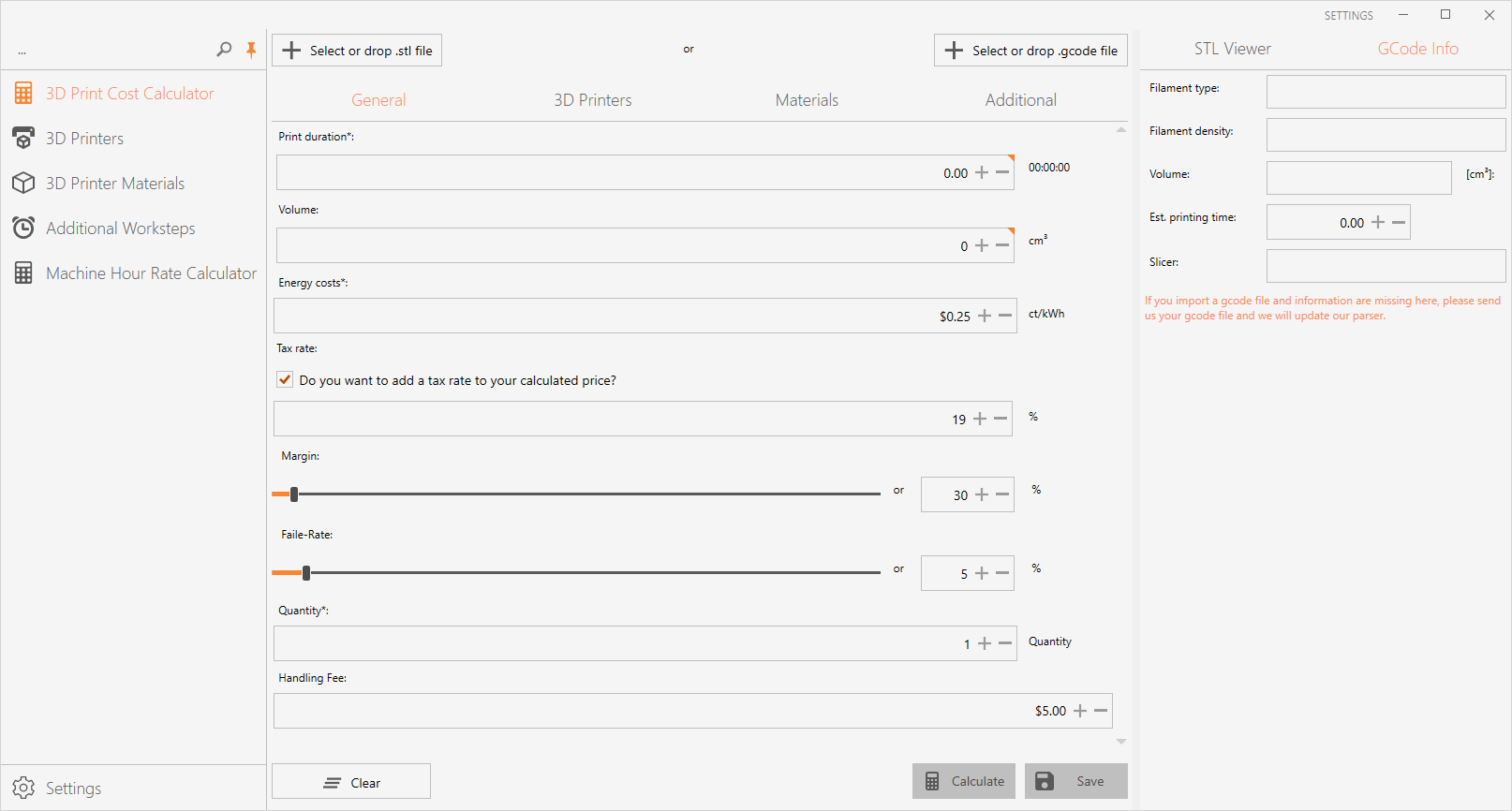 Under the settings you can define both the theme and the accent color.
GCode Parser 2.0
With the new GCode-Parser 2.0 we analyze your GCode file line by line and thereby determine the volume of the extruded filament and the printing time.
Analyze gcode
Our parser analyzes your GCode line by line and filters important information such as the X, Y&Z coordinates, the extrusion of the filament and the speed
Generate layer model
Our parser then generates a layer model from the information received, which should serve as a simple preview. You can move through each layer with the slider.
Volume & printing time
The calculated volume from the extruded filament, as well as the calculated printing time, is automatically loaded into your calculation template.
Recommended slicers
Diese Slicer wurden bereits mit unseren GCode-Parser getestet und werden deshalb von uns empfohlen.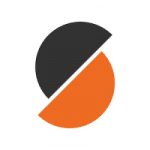 Slicer developer,
Prusa Research s.r.o Partyzánská 188/7A, 170 00 Praha 7-Holešovice, Czechia
The free slicer from Prusa offers many setting options, is easy to use and can also be configured for other 3D printers

Slicer developer,
Simplify3D 10805 Indeco Dr., Cincinnati, Ohio, 45241, United States
The Slicer Simplify3D is a paid software. This offers a lot of setting options, but in our opinion it is more suitable for advanced or experienced 3D printing fans.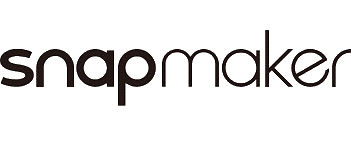 Slicer developer,
Snapmaker Inc. 4F, A31, Tanglang Industrial Park, Nanshan District, Shenzhen, PRC Shenzhen, Guangdong 518000, CN
The Snapmaker slicer is optimized for their own 3-1 3D printers and, in addition to the slicer for 3D printing, it also offers the option of outputting GCode for milling and lasering.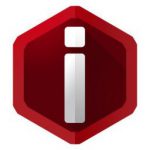 Slicer developer,
Raise 3D Technologies, Inc., 43 Tesla, Irvine, CA 92618
Der Slicer IdeaMaker wurde mit unserem Tool getestet und funktioniert.

Der Voxelizer 2 wurde mit unserem Tool getestet und funktioniert.
Your slicer is missing?
No problem! Every slicer is compatible with the new parser, since we obtain the required information directly from the GCode.
Download now for free
Convinced? Then start directly with our free version or choose one of the Pro versions below!
Dein Beitrag
Du möchtest uns unterstützen? Du findest den Quellcode unserer kostenlosen Version auf Github. Wir freuen uns über jeden Beitrag und PullRequest!
These features are only included in the Pro version
Features of the Pro version
Save and load calculations
Put your calculations as a file to load and edit them later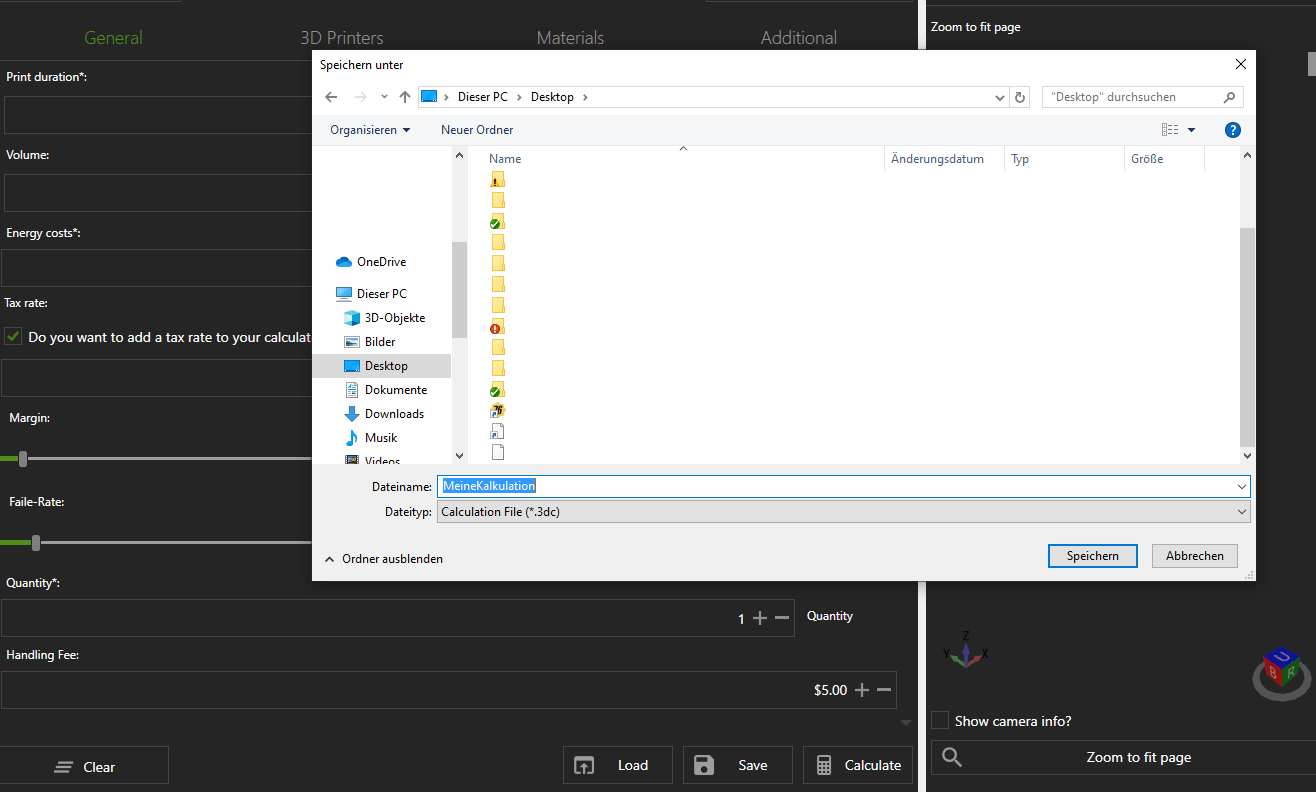 Save encrypted
Our own calculation file (* .3dc) is always encrypted before saving.
Additional work steps & activities
Define various additional works for your 3D print job
Not only the 3D printing is relevant ...
It should also the additional steps, such as cleaning, removing support structures and much more. to be taken into account, right?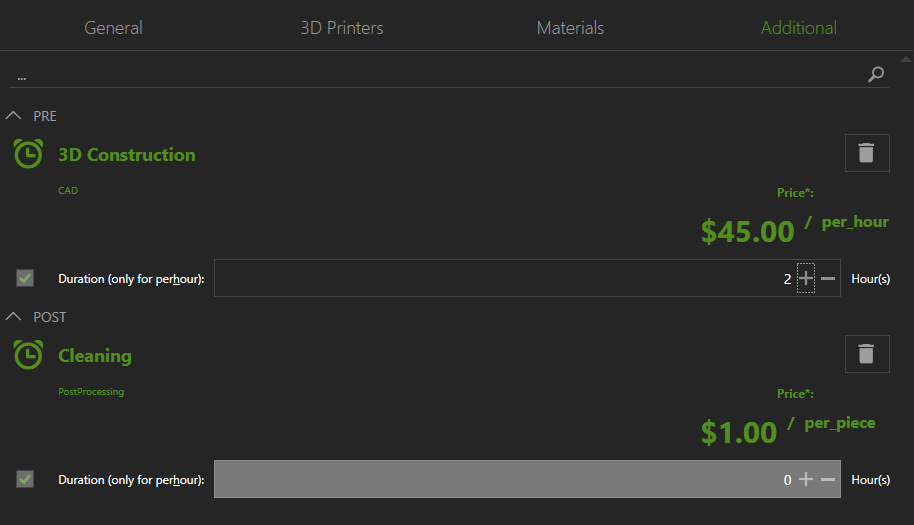 Calculate the machine hourly rate
Calculate your machine hourly rate directly in our tool.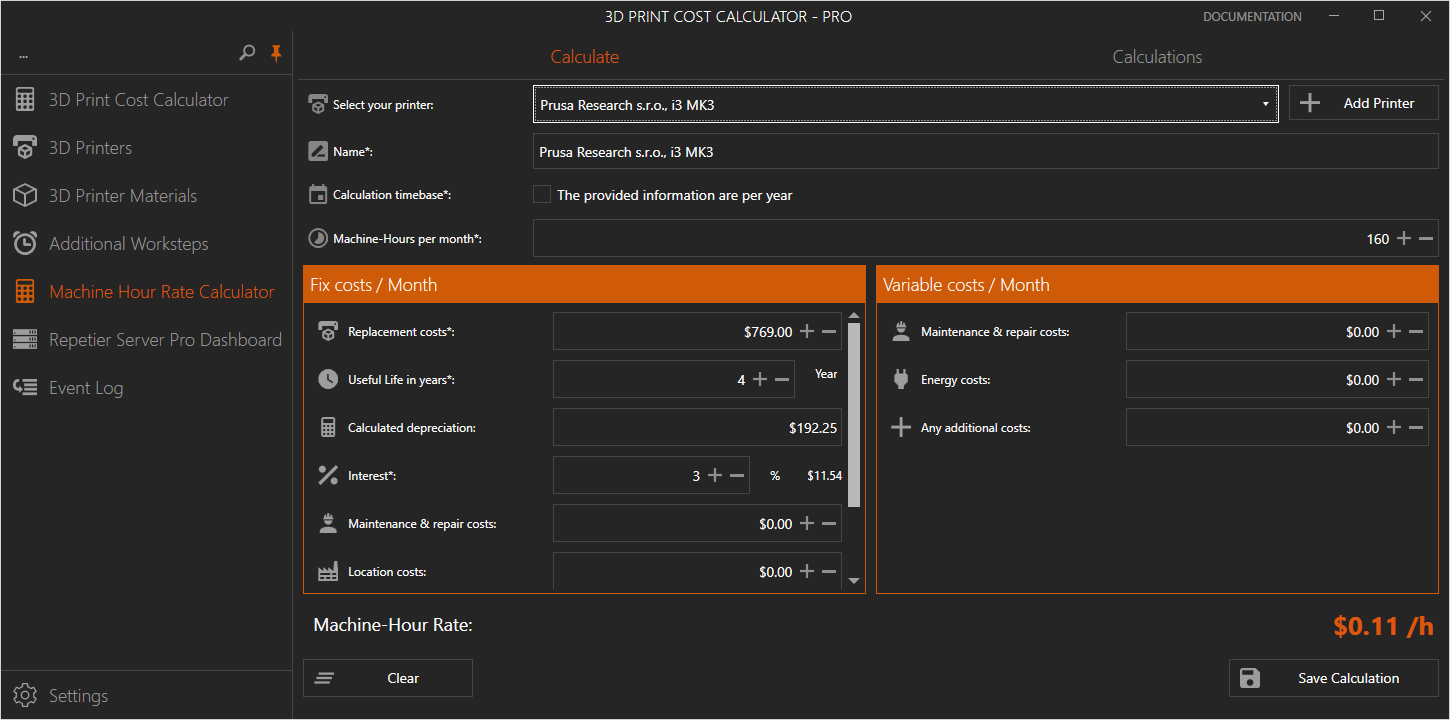 Real-time calculation
The price is automatically adjusted and recalculated with every change. You can see the result in the lower right corner of the calculation window.
Assignment
You can assign the calculated machine hourly rate directly to a 3D printer.
Control your 3D printer directly from the calculator
Repetier Server Pro Dashboard
Control the printer
Control your 3D printer(s) comfortably from our calculator.
Track print progress
Always keep an eye on the progress of your current print. You can also connect directly to the web cam of your printer from our tool. Cool isn't it?
Receive messages
Receive messages, for example, when the print job is completed, directly in the dashboard.
Manage models
Manage your models easily from the dashboard. You can upload new models directly, delete models or start a print job.
The dashboard at a glance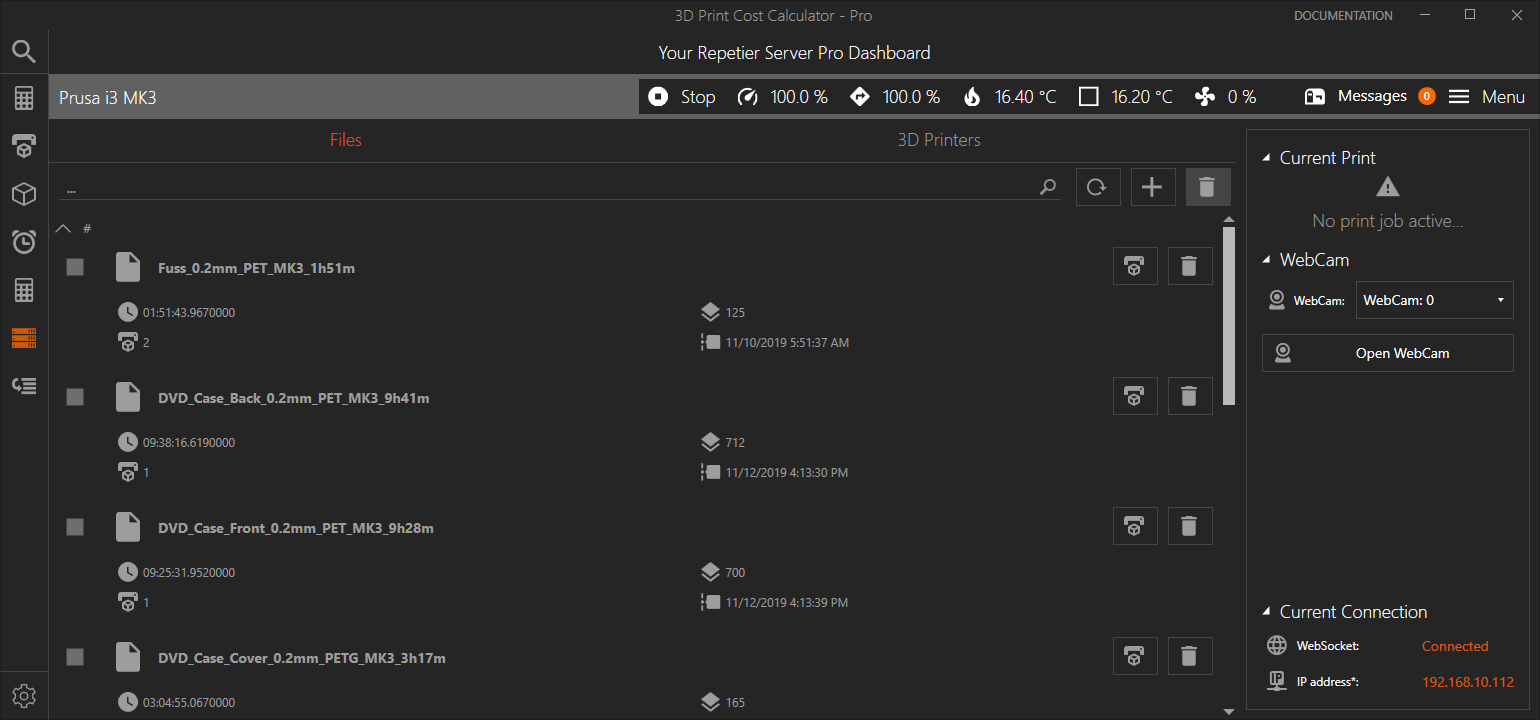 The dashboard offers you all the important information and controls for your Repetier Server Pro.
Have full control over your 3D printer(s)! Our Repetier Server Pro Dashboard allows you to do all of this (separate license required)
Access to all Pro features
Installation and use on a Windows computer
No simultaneous installation and use on different devices
Recommended Plan
Access to all Pro features
Simultane Installation und Verwendung auf 10 Windows-Computer
Access to all Pro features
Simultaneous installation and use on 3 Windows computers
Your opinion is in demand!
New functions & suggestions for improvement
You have an idea?
You have found something that is missing in our calculator? Or you have an idea how to do something better? Then write us now!
You are looking for help? Have a look at our documentation!
Documentation
Go to the documentation
You need help with our product? Check out our documentation page!
All used additional packages in the overview
Attributions & Licenses
You always see which third-party packages we use in our tool. You will also find a corresponding license.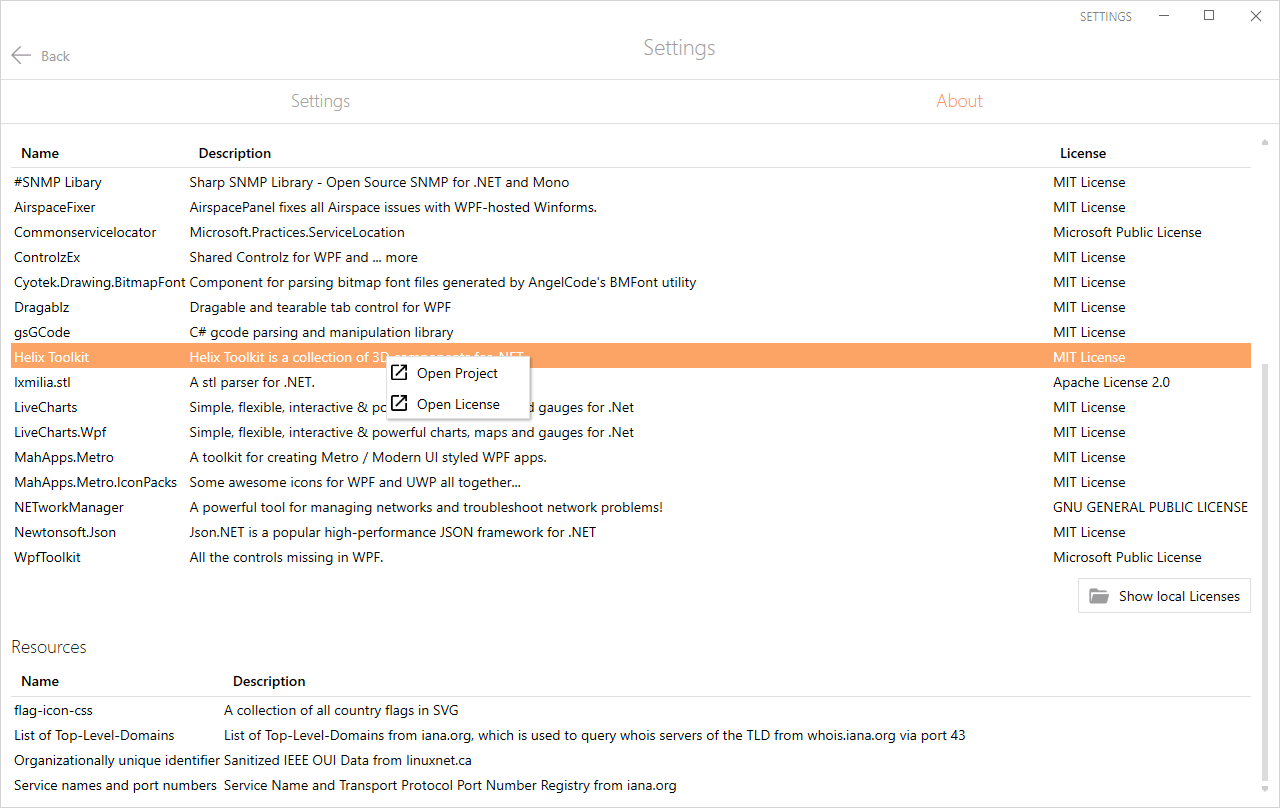 End User License Agreement
Our EULA (End User License Agreement)
Open & read our End User License Agreement. You will also be asked to read and agree when starting the application.
Version 0.0.1-beta - 2019-11-01
First release of the trial version
Version 0.0.2-beta - 2019-11-02
Fixed: Added missing translations for 'Validators'
Fixed: GCode parser crashes when filament density was 0
Fixed: Unfinished settings system (Slicer, Simplify 3D) hidden from the settings
Fixed: Currency symbol was loaded incorrectly, or always displayed '$'.
New: French translation added (Thank you to Sébastien for your support!)
Version 0.0.3-beta - 2019-11-21
New: Repetier Server Pro Dashboard - All important information at a glance
New: Updated french localization
New: Gcode file chooser for calculations
New: New "Name" field for the calculation
New: New feature to accumulate more calculations to an offer
New: Integrated event logger
Fixed: Repetier Server Pro settings didn't save, if nothing else had changed before
Fixed: For the "machine hours rate" calculation the "delete" button was without any function
Fixed: The search field at the "assign machine hours rate" was without function
Fixed: The gcode parser didn't recognize the "days" for the print time calculation
Changed: Minimum dotNet framework version updated to 4.5.2
Changed: Cleaned UI and forms
Changed: Added try & catch for all dialogs
Changed: Width for the calculation result dialog increased
Version 0.0.4-beta - 2019-11-25
New: Pro version released
New: Dialogs for creating materials, printers and work steps can now be opened in a new window.
New: Note when a new version is ready for download
New: Added new language: German - Switzerland (mainly to show accurate currency symbol)
Fixed: Is the printer list loaded while the Repetier Server Pro is offline, the application crashes
Fixed: "Delete" button in the "Assign machine hour rate" dialog was without function
Fixed: License haven't been saved on the first start if no other settings were changed as well.
Version 0.0.5-beta - 2019-12-01
New: Pruchased & integrated Code Signing Certificate
Fixed: "Edit" commands without any function in the calculation overview (printers, materials & work steps)
Fixed: "Edit" button for the machine hour rate calculator removed, due to the fact that this function isn't implemented yet
Fixed: Updated french translation
Version 0.0.6-beta - 2019-12-02 - HotFix
New: Added several languages to change the currency symbol
Fixed: Activation on Pro did not work properly
Fixed: Minor bugs fixed
Version 0.0.7-beta - 2019-12-15
New: Send stl files directly to your slicer (Command Line Interface or GUI)
Neu: Eigener GCode-Parser integriert (Beta)
New: Added various new settings
Changed: Improved file handling for gcodes and stl files
Changed: Added possibility to exclude energy costs (if already calculated in the machine hours rate)
Fixed: Calculation error for energy costs
Fixed: Minor bugs fixed
Removed: Removed external library for gcode-parsing
Updated: German and English language updated
Version 0.0.8-beta - 2020-01-05
New: Own gcode-inspector
New: Gcode editor
Aktualisiert: Repetier Server Pro Dashboard erneuert
Aktualisiert: Minimale dotNet-Version auf 4.6.1 erhöht
Updated: German and English language updated
Updated: Language updated
Behoben: Scrollen bei Sprachauswahl war nicht möglich
Fixed: Improved gcode parser and fixed errors
Fixed: Slicer dialog was not completely visible
Behoben: Das Einklappen des Hauptmenüs wurde nicht gespeichert
Behoben: Repetier Nachrichten wurden nicht angezeigt, wenn diese während der Laufzeit eintrafen
Behoben: Das Einstellen der Lüftergeschwindigkeit im Repetier Dashboard war nicht möglich
Fixed: Minor bugs fixed
Version 0.0.9-beta - ausstehend
Neu: Möglichkeit Material zu duplizieren hinzugefügt
Neu: "ASA" als Filament hinzugefügt
Neu: Möglichkeit Kalkulationen als Excel-Datei zu exportieren hinzugefügt
Neu: Erweiterte Ansicht (Kalkulationen, Stl Viewer, Gcode-Info) können nun eingeklappt werden
Neu: Erweiterte Einstellungen für die Kalkulations-Oberfläche
Neu: FQDN Support für Repetier Server IP Adresse
Neu: Slicer-Befehle können nun gespeichert werden
Neu: Sprache für Norwegen hinzugefügt (Währungssymbol)
Neu: Button zum Markieren & Löschen für Kalkulationen eingefügt
Geändert: Repetier Server Dashboard überarbeitet (Testphase)
Behoben: Gewinn und Fehlerrate wurde nicht gespeichert
Behoben: Das Bearbeiten von Slicers hat nicht richtig funktioniert
Fixed: Minor bugs fixed