Available from
v1.1.3-beta
Only in Pro version?
No, also in the free version
Change currency
Sollte deine Sprache noch nicht verfügbar sein, oder du möchtest aus einem anderen Grund das Währungssymbol im Kalkulator ändern, dann kannst du dies ab der Version 1.1.3-beta tun. Besuche dazu die "Einstellungs"-Seite und wähle den Bereich "Allgemein" aus.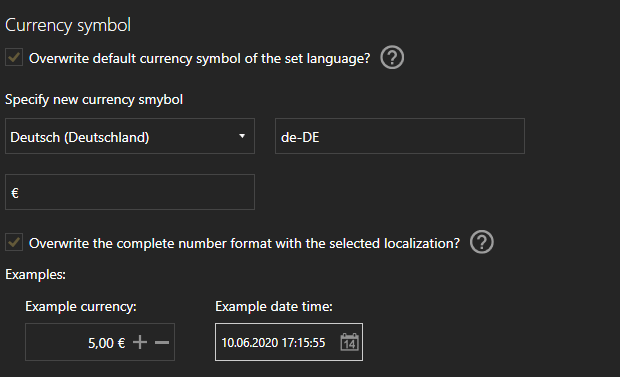 Select the desired country from which you want to transfer the currency or the currency symbol. You will be shown an example of how the change will affect you.
Overwrite complete number formatting
If you want to overwrite the complete number formatting, such as the date format, then also check the box to overwrite the complete number formatting. Then the example display for the current date also changes.
Caution Changing this setting requires restarting the software.