Sie wollen mit wenigen Klicks ein Angebot erstellen und dabei mehrere 3D Drucker miteinbeziehen? Kein Problem mit unserem neuen 3D Druckkosten-Kalkulator! Wir stellen Ihnen hier vor, wie es funktioniert.
3D Drucker verwalten
Vor allem als 3D Druck-Dienstleister, mit mehreren Druckern, ist es es wichtig, nicht die Übersicht zu verlieren. Deshalb können Sie all Ihre 3D Drucker direkt im Kalkulations-Tool verwalten und erhalten die wichtigsten Informationen direkt auf einen Blick.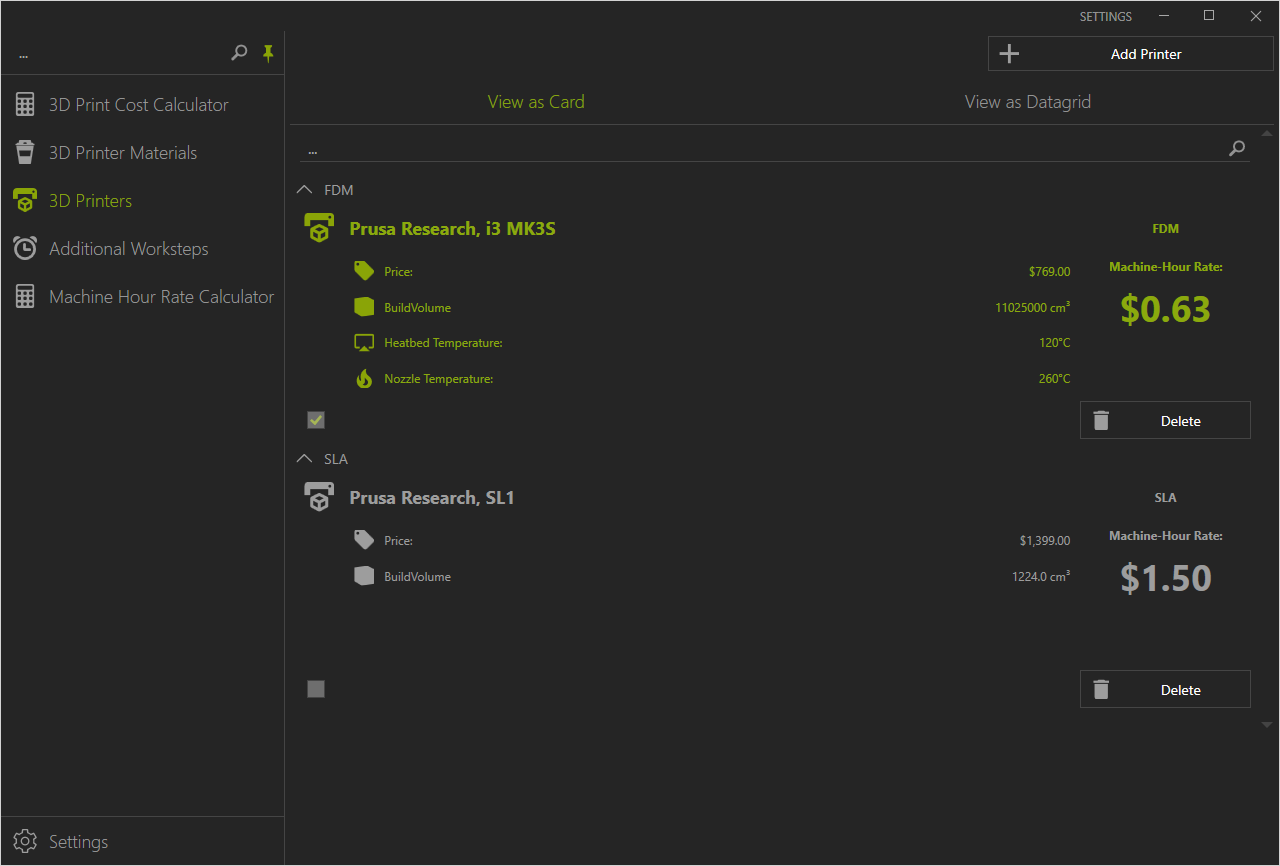 Sie erhalten direkt Einblick auf die wichtigsten Informationen, wie:
The price
Den Maschinen-Stundensatz
The size of the building space
Und die Temperaturen des Heizbetts (falls vorhanden) und der Düse
Neuen Drucker hinzufügen
Sie können ganz einfach einen neuen Drucker anlegen, indem Sie den "Neuen Drucker" Button oben rechts in der Übersicht klicken. Es erscheint eine Eingabemaske für die wichtigsten Informationen zu Ihrem Gerät.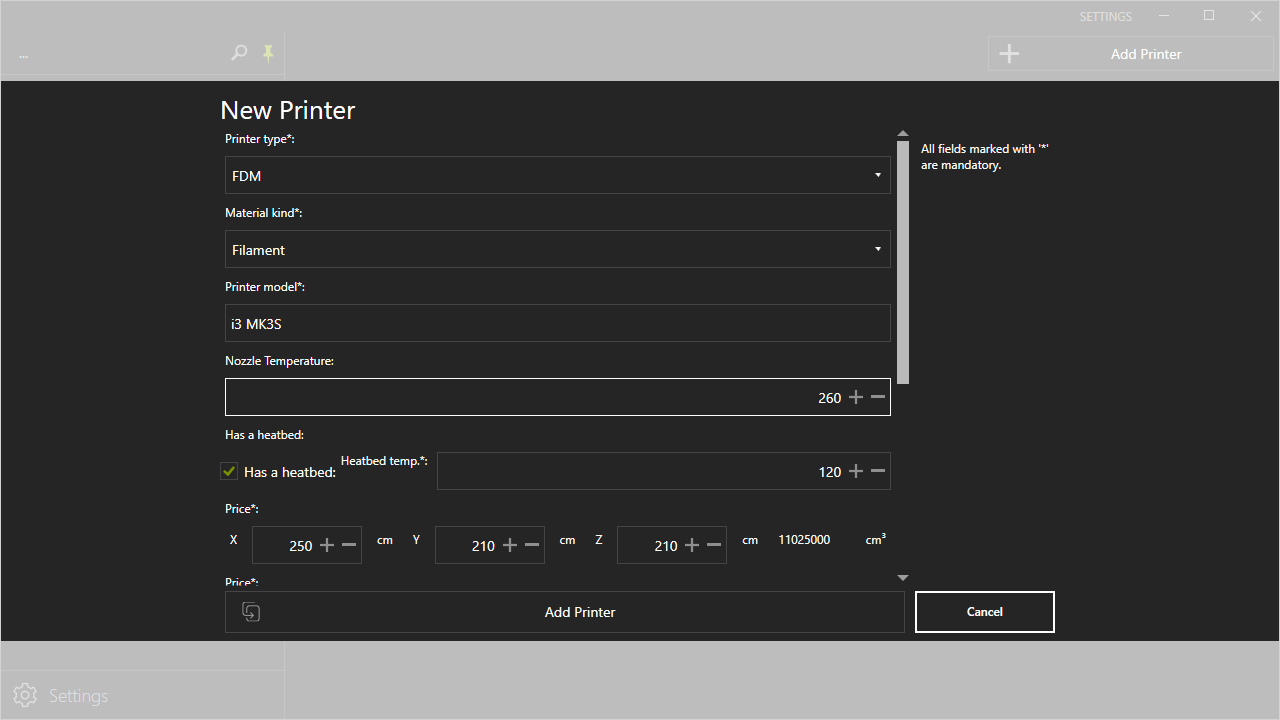 Zu Beginn kommen die wichtigen & erforderlichen Informationen, wie:
Druckertyp (FDM, SLA…)
Druckermaterial (Filament, Resin… weitere folgen!)
Model (hier nicht den Hersteller angeben, dazu später)
Heizbett vorhanden?
Temperatur für Düse & Bett
Build volume
Price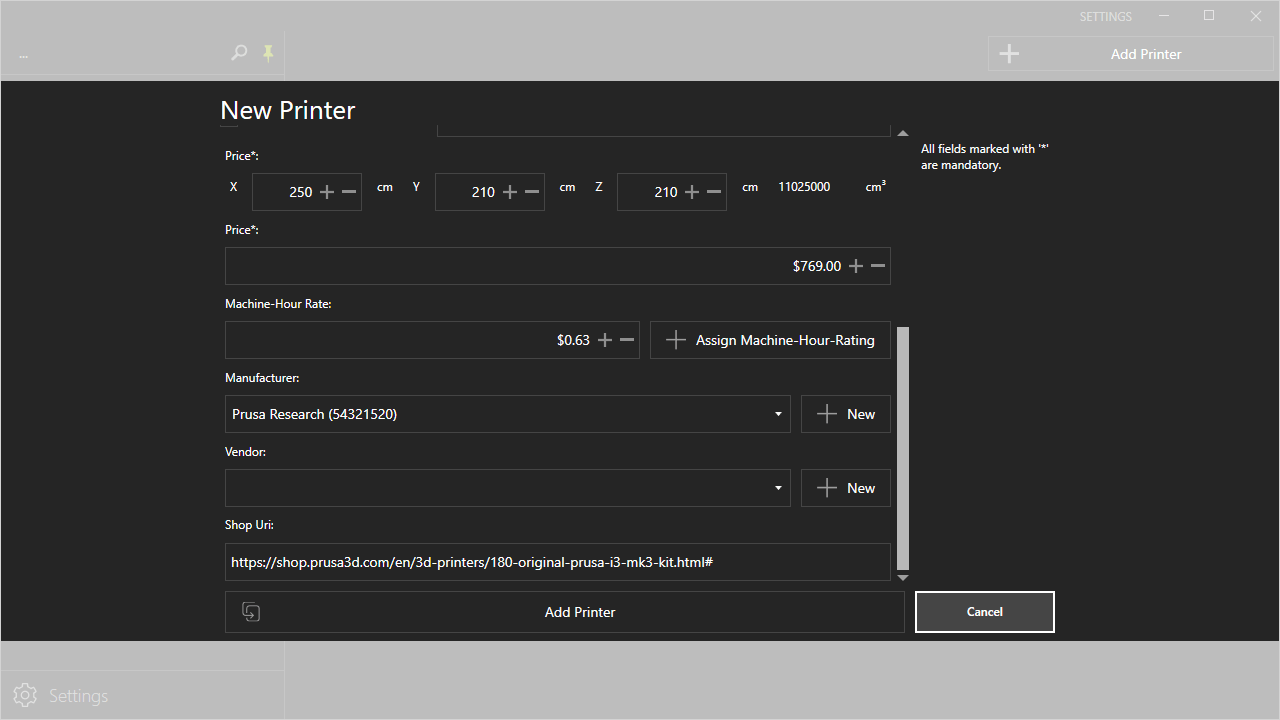 Des Weiteren können Sie auch einen Hersteller angeben. Durch das Klicken auf den "Neu"-Button können Sie beliebig viele Hersteller anlegen.
Sollten Sie den Drucker über einen anderen Lieferanten beziehen, und nicht direkt vom Hersteller, so können Sie auch einen Verkäufer angeben.
Zuletzt können Sie noch den Link angeben, wo der Drucker gekauft wurde (für Nachbestellungen).
Gespannt auf mehr?
Es folgen noch viele interessante Funktionen für unser neues Tool! Bleib gespannt und schau regelmäßig in unserem DevLog vorbei!